What are letter box sweets?
Letter box sweets are exactly what they say on the tin… Well box, they are a box that can fit perfectly through a letter box and are filled with sweets. Which means it's contact free delivery once your order goes through you can sit back and relax and wait until the sweets appear through your door.  Think about it, what would you buy your best friends to cheer them up or buy for yourself just because? Pick and Mix are an easy gift that everybody loves, with a huge variety to choose from you really can't go wrong with a sweet gift box.
How do they arrive looking so good?
Our letter box sweets are designed to travel seamlessly though the post, not only getting to the receiver in one piece but still perfectly packaged and gift wrapped to perfection. We line the box with pretty tissue paper and then place cellophane above and below the pick and mix to keep them super fresh during transit, we then close over the tissue paper and seal it with one of our Sweet Escape stickers to then go on to closing the box and putting it in a postal bag ready to be dispatched.
What size do they come in?
We have lots of letter box sweet options available, they also come in a variety of sizes, so lost of choice. Our smallest box we do is 400g our most popular box is our 500g box and then we have my personal fave ( because you get the long snake ) the 1kg box!
Do you sell personalised sweet boxes
When there is a special occasion coming up we all love to add that special message and send a personalised gift. Personalised letter box sweets are fab they inject those inside jokes in to the sweet box to make the perfect gift for any occasion-birthday's, anniversary's, Wedding's,  national BFF day.  We have 14 Template Occasions to choose from and if you don't see what your looking for you can always message us and we will be happy to create you a bespoke box.
Lets take a look at the fantastic options we have on sale!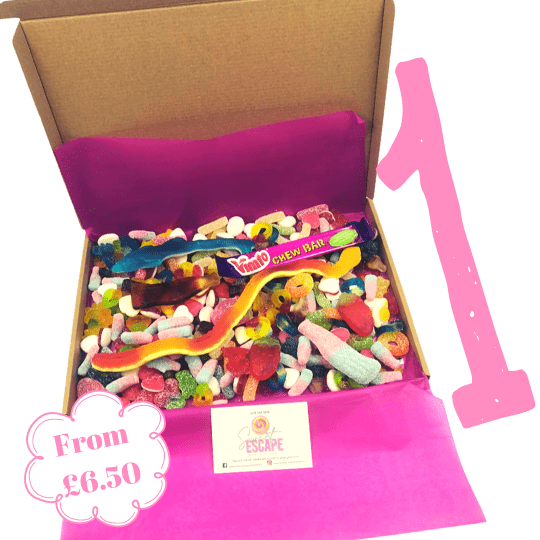 We usually fill it will 800g of pick and mix sweets including, Haribo cola bottles, Haribo hearts, Haribo rings, fizzy strawberry pencils, Haribo turtles, teddy bears,  fizzy bubble gum bottles, fizzy chips to see what else we can include in our 1kg sweet box click here
Then we add 200g of extras on including, Yellow belly snake, Dolphin, large bubble gum bottles, large cola bottle, Haribo Strawbs, and a chew bar.
Also available in 400g & 500g & 1kg.
With prices starting form £6.50 and free delivery its the perfect box if you're on a budget.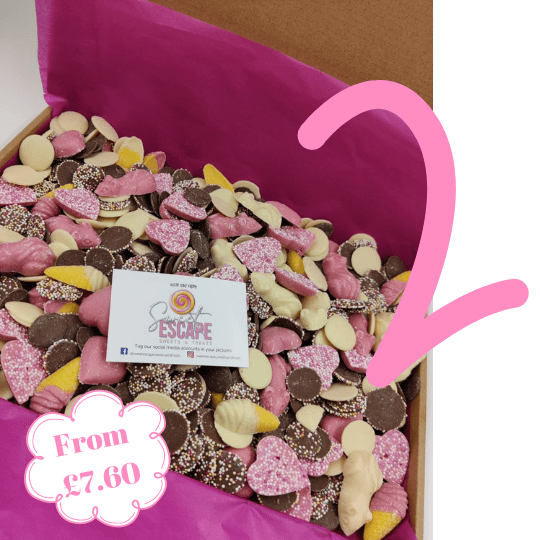 Check out our 1kg classic pick and mix chocolate box, the gift box is filled with absolute classic's such as; white and Pink Mice, White and Brown Jazzies, Milk Buttons, Mini eggs, Chocolate Pandars, White Fish and Chips, Pinky Pigs, check out our full chocolate selection HERE
Also available in 400g & 1kg.
Mix sweets and chocolate box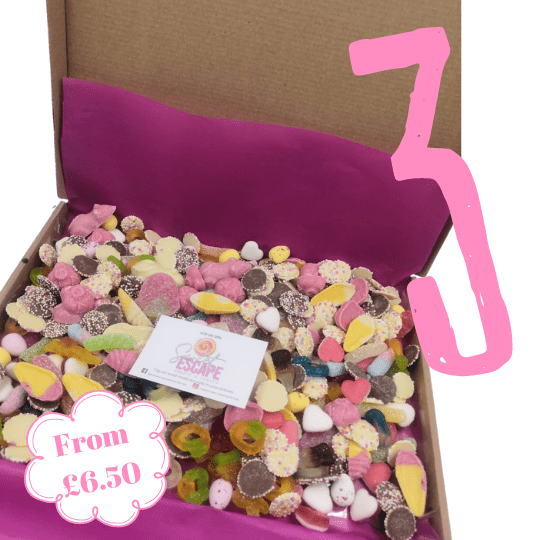 This 1kg mix box of sweets and chocolate is a very popular item and we can see why, with a selection of both its a no brainer, the only difference is you don't get any of the large add on sweets in this box. Check out what you could find in this box here.
Also available in 400g & 1kg
Again an absolute steal at £6.50 including delivery, a great gift if you're not sure what the receiver will prefer, because you get a bit of both.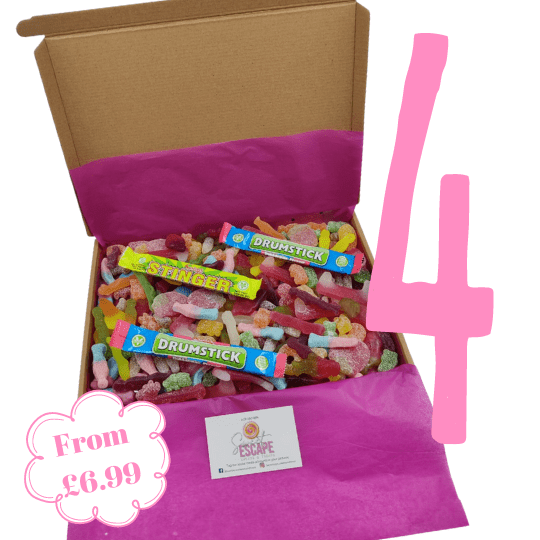 For so long vegan's have been used to settling for substitutes that are just not up to scratch, well not no more! Our vegan sweet box is absolutely popping with flavours, in fact  the vegan range hold some of my favourite sweets, such as the fizzy tongues, fizzy strawberry's and meerkats click hereto see what other vegan pick and mix can be found.
Available in 500g & 1kg also suitable for a vegetarian, halal diet or for those that are lactose intolerant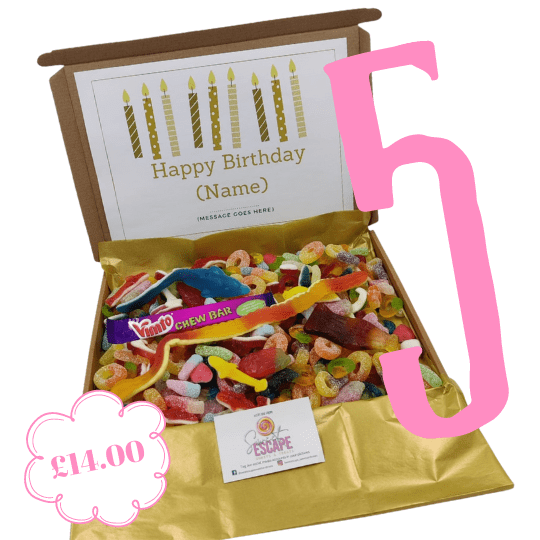 Our personalised letter box gifts are a great prezzie for all! With 14 occasions  to choose from and either chocolate, vegan sweets, pick and mix sweets, or a mix of sweets and chocolate to choose from its got to be a winner!  Click here to see all the occasion options.
Available in 1kg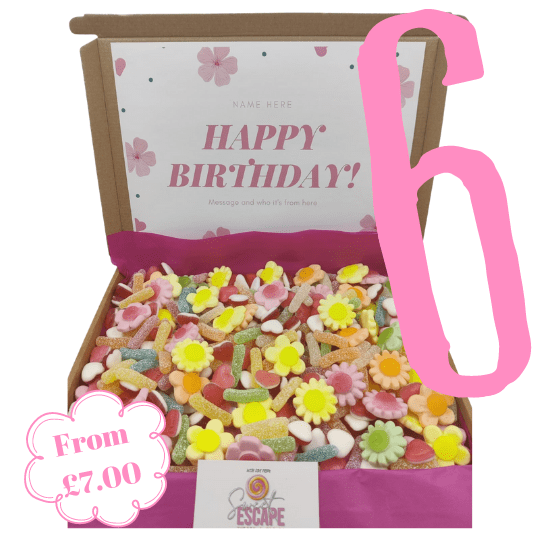 The flower letter box gift screams cuteness and is definitely a well-received thoughtful gift. It will put a smile on the receiver's face when they see beautiful flowers appear in such a special way. The box is filled with fizzy and non-fizzy floral sweets. Available in:
Thinking of you
Thank you
Just for you
Happy birthday
Available in 400g or 1kg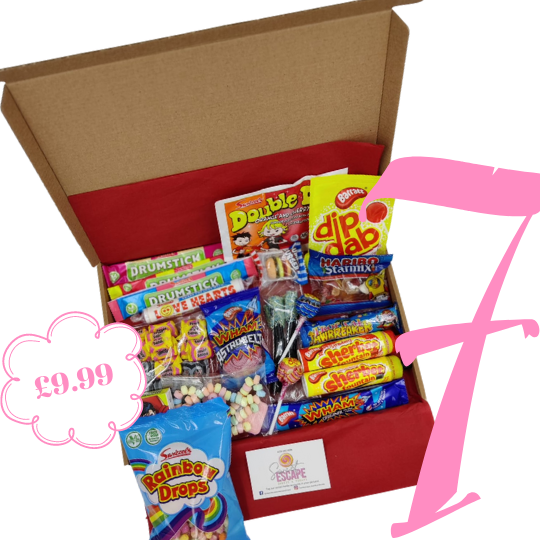 The retro box is jam packed with the old school classics, Rainbow drops, Wham laces, Dibs dabs, Black Jacks…. If you want transporting click here
 This is a excellent gift for all ages especially for those big kids and at a great price of £9.99 including FREE DELIVERY
We will let you into a secret…. You will be able to see our father day products on our website form this week! Keep your old man sweet this father's day!  
REMEMBER ITS FREE DELIVERY SITE WIDE!